Do you or your child suffer from eczema?
We offer the fast-track to a happy skin!
Let's start your journey to a happier skin now.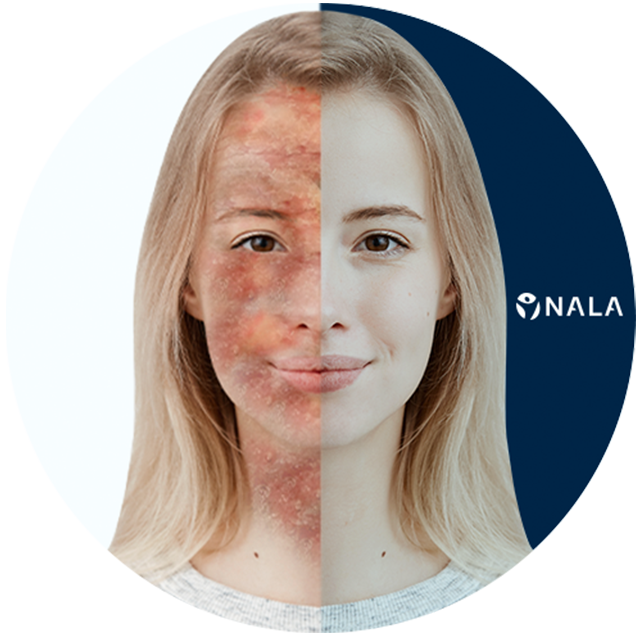 Why NALA? 💡
NALA has been created from eczema patients for eczema patients, together with experts from all important areas (e.g. dermatology, psychology, integrative medicine, sleep experts, nutritionists) — and, of course, based on the most recent scientific studies.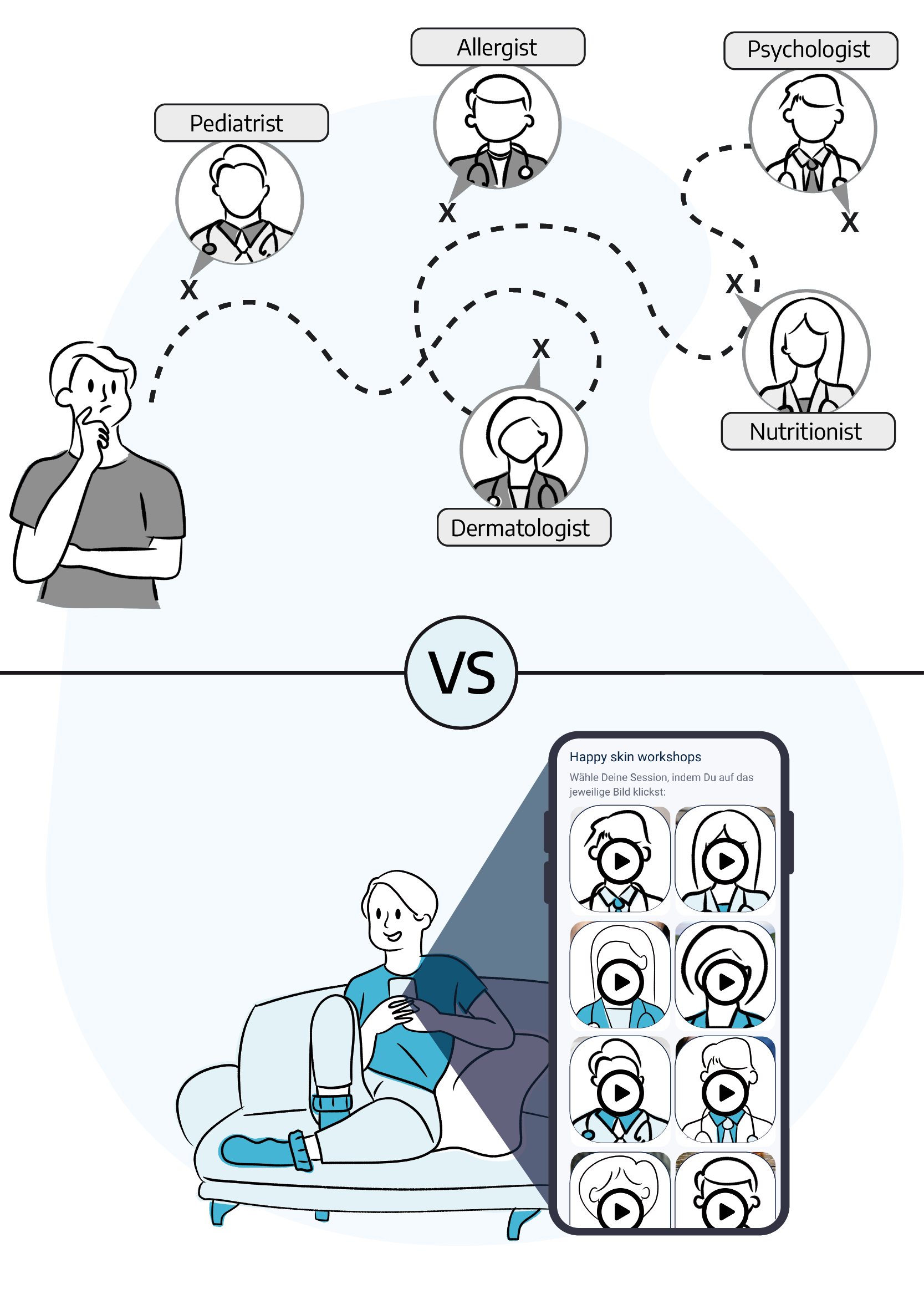 Couch instead of doctor hopping
Instead having to go through lengthy "doctor hopping", with us you get access to all the expert knowledge on your smartphone.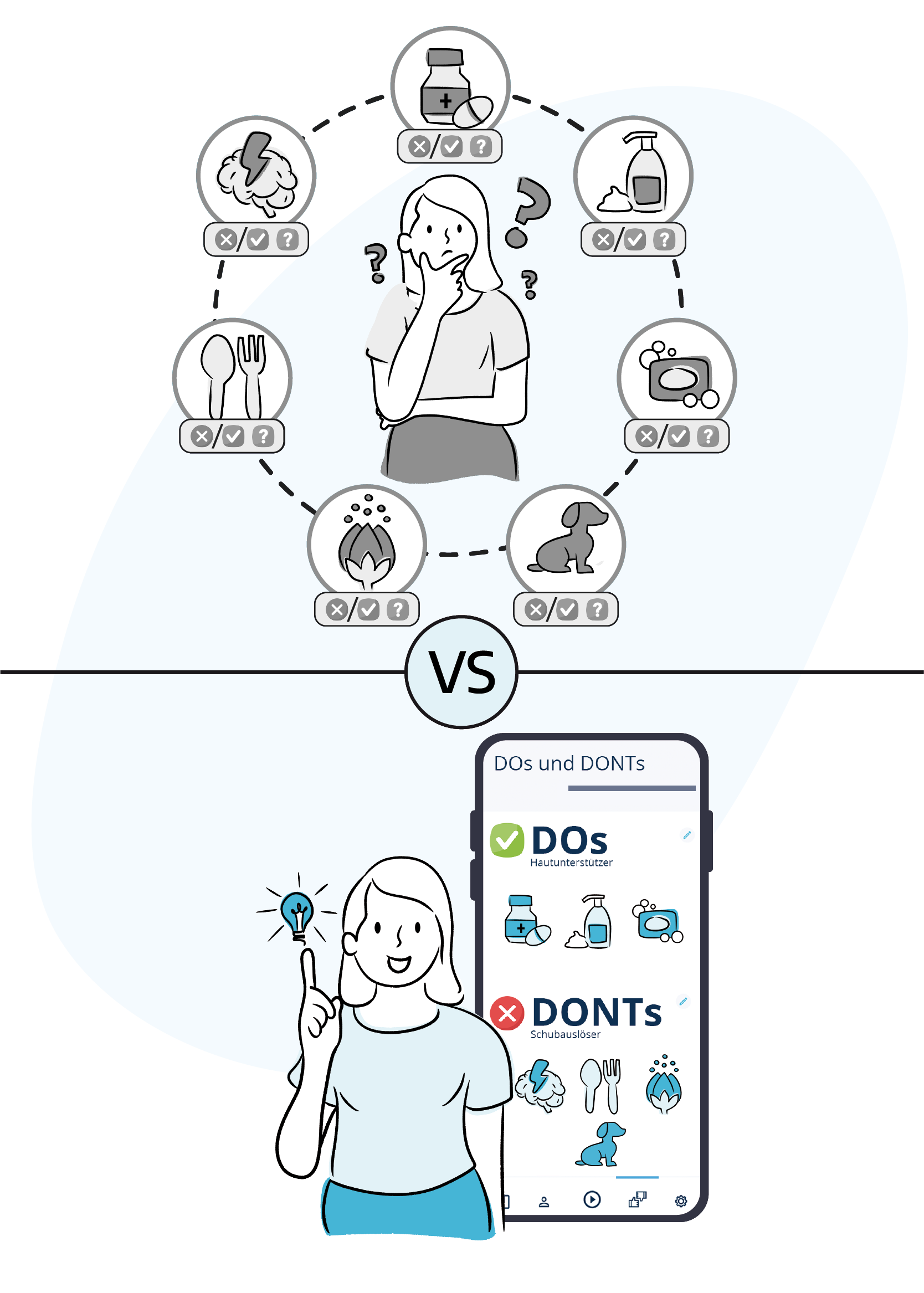 Artificial Intelligence instead of Trial & Error
Instead of having do lengthy "trial and error" to figure out your very own trigger factors and skin supporters, our AI will be able to identify them for you.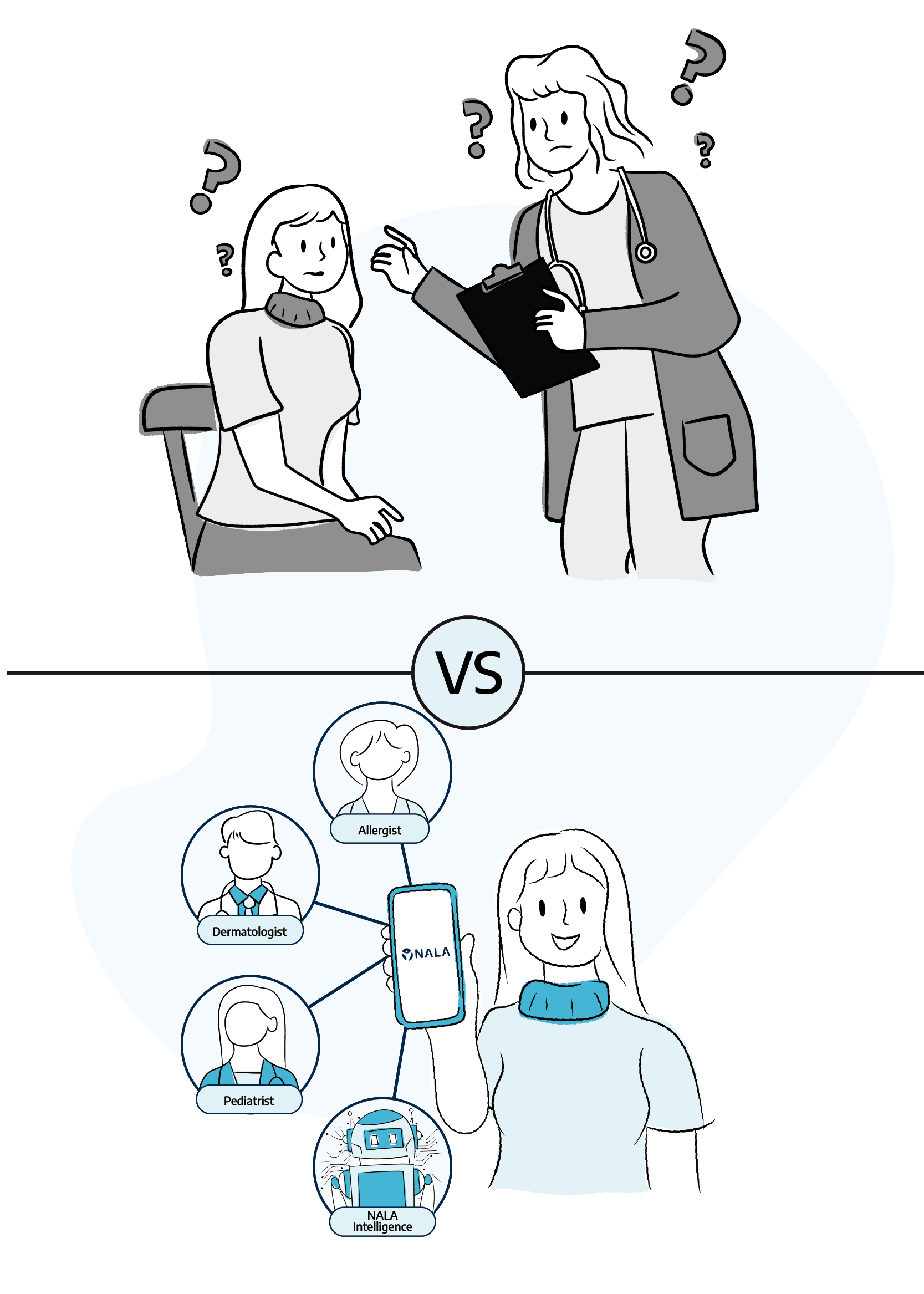 AI-enabled, leading experts instead of family doctor
Instead of your family doctor we offer you the know-how of the most renown experts from dermatology, allergology, psychology, nutrition etc., enabled by "Artificial Intelligence".
You want the fast-track to a happy skin?
Pick the option that resonates most with you so we can accompany you on your individual journey:
Smartphone app with your personalized treatment plan (incl. DOs and DONTs), expert videos and skin diary.
Mastermind
Get together in our WhatsApp-Group with other people with eczema and our skin experts for daily support.
Conference
Money-back Guarantee
Join the "Happy Skin Conference" on World Eczema Day 2022 (14th of September, 6-8pm CEST) to learn about the best eczema hacks.
3-hour Coaching
Money-back Guarantee
Get a 3 hour live coaching (e.g. through Zoom or phone) with our skin experts to get to a happier skin faster.
How does NALA work? 🤔
We want you (and your family) to spend your time on the things that really matter. Spend 3 minutes per day and let NALA take over all the other work around your skin.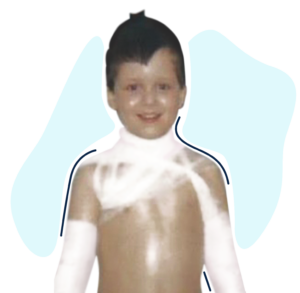 Our very personal story:
Jerry, one of the co-founders of NALA, was suffering from severe atopic dermatitis himself during his childhood and youth. On the picture you can see him being bandaged to allow his skin to rest and recover during the night. So as you can see: we know what we are talking about.
Learn more about us.
But don't just take our word… 🙂
Read the stories of some of our users. We're looking forward to hear yours.
"NALA is a great thing to have! Together with me, NALA looks at the aspects of atopic dermatitis that I couldn't see due to not knowing about it or simply due to my routines which are the same every day… it just gives us a really good feeling that you can see through the tracking and the reports that there have been really good times as well — that was really giving us a lot of strength and hope."
"I came across the app some time ago and have since been thrilled with this easy-to-use app and NALA's vision. Thanks to the app, I have found out about trigger factors as well as skin supporters and am now feeling much better in my skin. The short inputs from medical professionals in the form of videos and also the digital diary has contributed to this. I can highly recommend the app and am convinced that it will support many more people."
"This digital companion was not only incredibly helpful in treating the atopic dermatitis of my child — we also collected loads of new insights which lead to a significant improvement in the skin of my child. My doctor was taking me way more serious when I showed him the printed report and development of the skin over time, so he took way more time for talking to us than they previous times. Simple and amazing."
"NALA and the digital report gave me a lot of optimism and confidence. I was able to recognize that there are even very good days with significant improvements of the atopic dermatitis of my baby. Furthermore, it was easier for me to collect evidence over time that allowed me to discover new trigger-factors, that we did not know before. That was really surprising! All in all: very, very helpful!"